Life's work: Richard Paterson describes the collection as 'a distillation of my life in the industry'
The Paterson Collection, a £1 million compendium of Dalmore single malts, has finally been sold four years after going on sale.
The one-off collection of 12 single malts, which was created in 2013 by Dalmore master blender Richard Paterson, in partnership with London department store Harrods, has been sold to a 'young Chinese collector'.
With a price tag of £987,500, the 12-piece collection features some of Dalmore distillery's 'rarest and most valuable' stock, dating from 1926.
Each whisky, which has been matured in American white oak, and Gonzalez Byass matusalem and apostoles Sherry casks, is presented in a lead crystal Glencairn decanter featuring hand-engraved silver plaques by Hamilton & Inches.
The Paterson Collection also comes with a bespoke wooden display cabinet and 200-page ledger detailing how the blender created each whisky.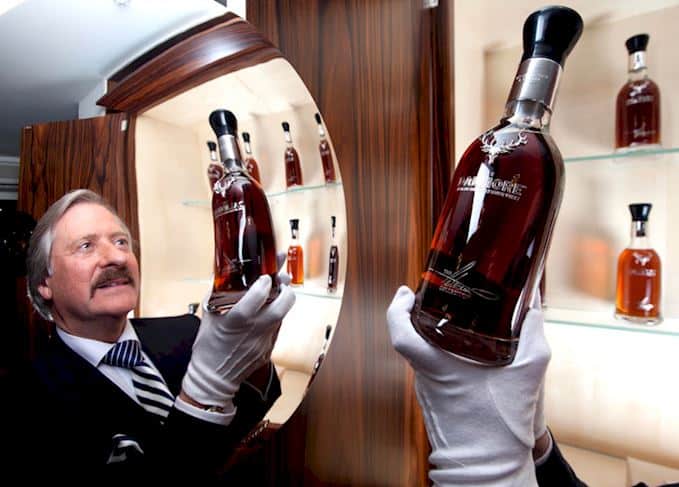 Luxury whisky: The Paterson Collection consists of 12 crystal decanters of Dalmore single malt
At the time of its unveiling, the Dalmore Paterson Collection was the world's most expensive collection of whiskies ever created.
It remained on display in Harrods' Fine Spirits room for 12 months, but was relocated to Dalmore distillery in 2014 after failing to find a buyer.
Although it has taken four years for the collection to be purchased, the Highlands distillery has always been confident it would eventually find a home.
A spokesperson for Dalmore said: 'The collector has a keen interest in whisky and wanted to visit the distillery to experience for himself the craftsmanship that goes into making the Dalmore.
'He viewed the Paterson Collection while he was there and immediately knew that it was a special piece of history that he wanted to own.'
Paterson added that he was 'absolutely sure' the collection's new owner will open the whiskies to drink. 'I've told him in no uncertain terms that every bottle holds many memories,' he said.
'When he opens them it must be with the right food, atmosphere and people, and he's the kind of man who wants to do that right. He has the right attitude to open it at the right time to give him memories that will last the rest of his life.'
The purchase coincides with the sale of all 50 decanters of Dalmore 50 Year Old, a £50,000 limited edition expression released earlier this year to mark Paterson's 50th anniversary in the whisky industry.
In a recent interview with Scotchwhisky.com, Paterson said the Dalmore 50 'epitomises' the care and attention the blender has given to whisky over the last five decades.
He said: 'With all 50 bottles now sold and the sale of The Paterson Collection, which is truly a distillation of my life in the industry, this has drawn a perfect close to what has been a truly exceptional year in my life.'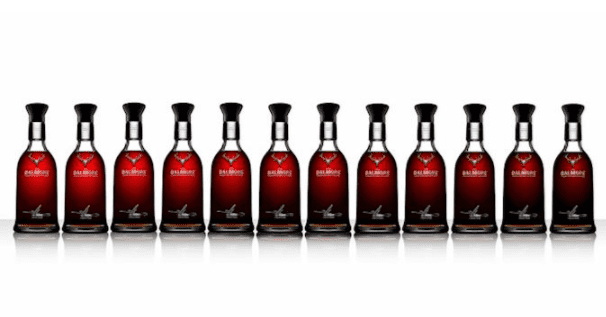 Million-pound drop: The Paterson Collection is the most expensive range of whiskies created
Written by: Becky Paskin—7 October 2017
www.Scotchwhisky.com