Loch Lomond Whiskies has unveiled a rare 54 Year Old single malt whisky, inspired by the surrounding landscape and the distillery's unique straight neck pot stills. One of the rarest Loch Lomond Whiskies single malts to be released, just 55 bottles of this limited edition have been produced in striking handmade 30% lead crystal decanters supplied by Glencairn Crystal.
Inspired by the iconic national park where the distillery is located, the Loch Lomond 54 Year Old decanter features a heavy plinth style base decorated with an intricate hand cut pattern around the base. The shape and style is an evolution of the shape originally crafted by the Scottish award winning glassware company Glencairn Crystal, for the Loch Lomond 50 Year Old whisky released in 2017.
Each luxury decanter has been carefully hand engraved with satin gold infill and features a gold satin aged effect metal coin bearing the Loch Lomond Whiskies stag logo.
 The handmade metal stopper and two piece metal collar are also in hand finished satin gold colour and both are deeply engraved; the stopper also bears the Loch Lomond whiskies logo and the collar features the distilled and bottled dates as well as the bottle and cask number.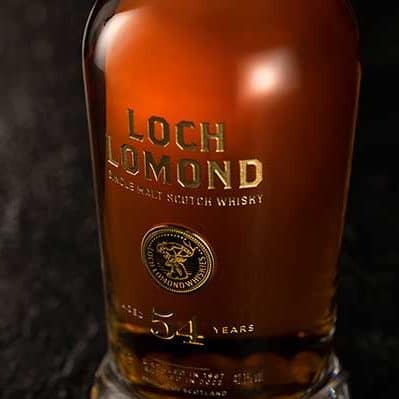 Loch Lomond 54 Year Old is housed in a multi-layered oak box, hand-crafted by Moran's Wood Components to represent the contours of the area around the single malt's namesake loch.
Distilled in 1967, just one year after the distillery's iconic straight neck stills began production in 1966, Loch Lomond 54 Year Old has been expertly crafted from unpeated malted barley and collected at high strength.  The oldest single malt to have been released by the distillery to date, Loch Lomond 54 Year Old was originally matured in a refill American Oak hogshead before being recasked into a refill European oak sherry hogshead in 1994.  
Loch Lomond 54 Year Old is bottled at 41.1% ABV and has a RRSP of £24,000 and is available globally. Production has been limited to 55 bottles, making it one of the rarest high age statement whiskies to be released by Loch Lomond Whiskies.