Father's Day is just around the corner and, just in case you are struggling with what to get him, we have created a gift guide that will give you the inspiration needed to get your dad the perfect gift.
IONA TANKARD – £15
Our first recommendation is for those dads who love beer! Cut crystal isn't for everyone and maybe your father wants to enjoy a crystal-clear glass of beer.
Step forward our Iona Tankard. Part of our uncut range, this tankard holds a full pint for your dad to enjoy. Supplied in a Glencairn Crystal presentation box to emphasise the quality of gift you will be giving your dad this Father's Day.
If you would prefer a stylish cut on your tankard instead, or perhaps another type of beer glass, we have a range available for you to choose from here.
CUT GLENCAIRN GLASS PRESENTATION SETS – £50
If beer isn't his thing and whisky is his favourite tipple, then the Glencairn Glass, AKA the world's favourite whisky glass, is what he should be drinking from.
The Glencairn Glass is the global benchmark for whisky appreciation and this mouth blown, hand cut version is the ultimate premium interpretation of the famous glass.
The Glencairn Glass compliments your dad's favourite dram as the wide crystal bowl allows for the fullest appreciation of the whisky's colour and the tapering mouth of the glass captures and focuses the aroma on the nose.
The cut versions are sold in sets of 2, 4, and 6 and whether you want them plain or cut, you can find our full Glencairn range here.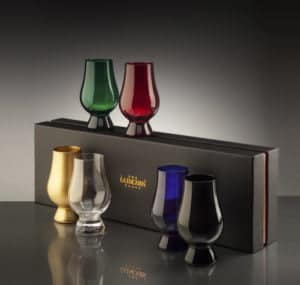 COLOURED GLENCAIRN GLASS RANGE – £60
Sticking with Glencairn Glasses, add a bit of fun to his collection. The Glencairn Glasses are available in Black, Blue, Gold Green and Red!
These colourful glasses have been designed for blind tasting. The colour of the glasses hides the colour of the whisky, allowing your father to fully appreciate the aromas. As well as being designed with a specific purpose in mind, the colourful Glencairn Glasses are very pleasing on the eye.
The coloured collection of Glencairn Glasses is available in individual colours or why not get him one of each including a crystal-clear Glencairn Glass as part of our Blind Tasting Set. The set is packaged in a Glencairn branded presentation box. You can shop the Glencairn coloured collection here.
GLENCAIRN MIXER GLASS – £6.50
Does your dad prefer his dram on the rocks? Then look no further than our Glencairn Mixer.
Whilst we have a wide range of rocks tumblers, the Glencairn Mixer is a multi-functional glass that can be used with any spirit. We have seen the Mixer glass used for gin drinking as well as a range of cocktails. The wide bowl leaves enough room to add ice as well as garnish to enhance his favourite pour.
The Mixer can be supplied on its own in a premium carton or in a beautiful presentation set of two. We also have a cut version of this versatile glass. You can shop the Mixer range here.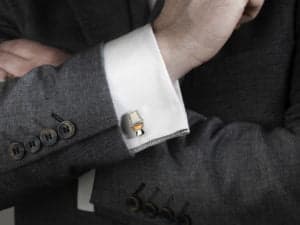 GLENCAIRN CUFFLINKS – £20
Your dad can now wear his passion for whisky on his sleeve!
Our Glencairn Cufflinks mimic our iconic Glencairn Glass and they are the perfect accessory to adorn his shirt and attract attention on his next big night out. The cufflinks are presented in a sleek Glencairn branded box making for a wonderful gift this Father's Day.
Shop the perfect whisky inspired accessories here.
MONTROSE DECANTER AND 2 GLASSES – £105
If you want to present your dad with a more lavish and special gift, a Montrose Decanter Set will not go amiss.
Do you recognise what the sweeping cuts on the glass are? Our hand cut and hand polished Montrose suite was inspired by the folds of the Scottish kilt, a nod to our cultural history as well as creating a modern statement for your dad's home.
The Set is presented in a deluxe box with companioning whisky tumblers, perfect for his next dram. You can explore this and the rest of our decanter sets here.
If none of these ideas are exactly what you are looking for, we are sure you'll find it in our shop. We'll also give you 20% when you use code: DADSGIFT at the checkout. To explore the rest of our products click here.